Belle Epoche Fuchsia Tea Gown c. 1906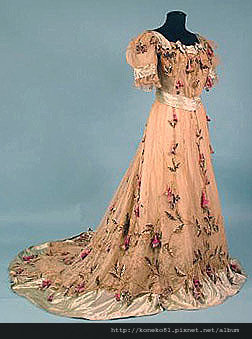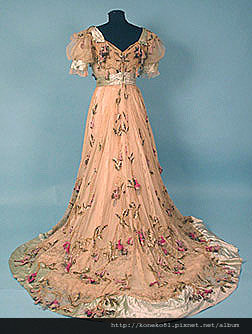 UNGAR: Vienna, Austria



Materials: Cream silk net, cream bobbin insertion lace, cream Mechlin lace flounce, pale mint green silk velvet, four round cut steel and diamante buckles, silk embroidery floss, silk chenille floss, sterling silver sequins, dark pink, pale pink, lavender and cream silk chiffon fuchsia blossoms with silver or gold lame centers and bead stamens, millinery wire, silver and gold glass beads. Lining: blush silk taffeta, silk mousseline de soie, pale green chiffon, 15 stays, brass hooks and eyes, metal snaps.
Provenance: Tea Gown belonged to Alice Faye Otis. Alice Faye was born in 1858 to a prominent Boston family. In 1884 she wed Dr. Walter Otis. Dr. Otis took his bride to Vienna, Austria where he set up his practice in psychiatry. The Otis' entertained lavishly and traveled often between Boston and Vienna. Alice Faye Otis died in 1909 at age 51.
Label: Petersham woven cream silk, "L. Ungar K.U.K. Hoflieferant Wein".
Condition: Excellent. Underarm areas have slight discoloration but are in excellent condition, with no holes or fabric rotting. All of the elaborate embroidery, beading and lace are in wonderful condition. Silver sequins have tarnished, as sterling will do. Gown has had museum quality restoration to give it longevity. I had the original lining removed as it was made from weighted silk and had disintegrated. A conservator meticulously and exactly reproduced the original lining with new silk taffeta, using the 1906 boning, hooks, eyes and snaps. As in the original, most seams are hand finished. Silk net becomes fragile over time. The conservator hand backed the entire skirt's original silk net with a similar gauge new silk net. The old silk net has several tears and weak spots; the new net backing has stabilized these problems and made them nearly invisible. There are two light brown stains on the gown; one quarter sized on the bodice and the other dime sized at the top front of the skirt. Although not obvious, the chiffon is worn around the millinery wire on many of the three dimensional fuchsia blossoms.
Measurements: Sh-Sh, 15"; B, 34.5"; W, 28.5"; Front L, 60"; Back L, 82"; Hem C, 163".
繡工一流呢~! ^^